What does Net Neutrality mean? Why should I care? Basically, the major service providers (AT&T, Verizon, and overseas providers) are trying to leverage their regional monopolies so that if you want to get to the internet you will be restricted to a limited number of "associate sites". How much you pay = how many websites you get. An exaggerated example of this can be seen below: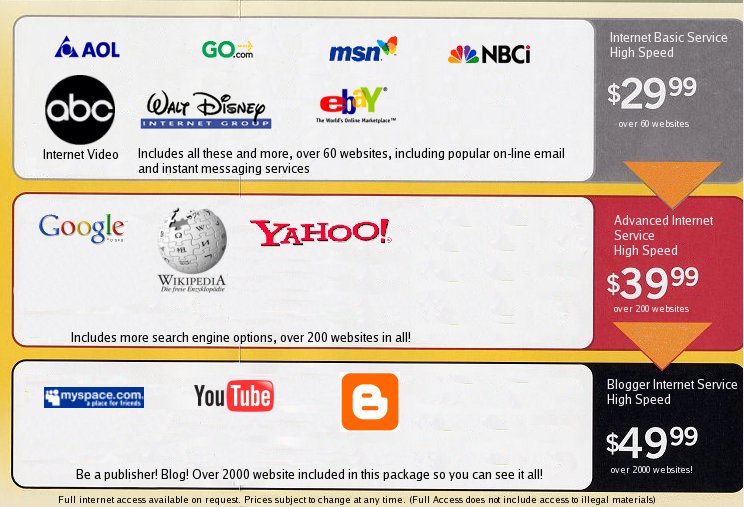 And you can watch a great video (thanks to my friend Brian for finding it) here:
Now… I think this is a very important issue, not just because I'm an internet junkie, but because currently this is one of the few mediums where I can get content that comes from somewhere other then a corporation, and just as important to me, I feel safer knowing that if I had something really important to say I could get it out there and if it was big it would be heard. While I have a fairly strong trust of most corporations (I fearlessly eat a fast food hamburger from a branch restaurant that I've never eaten at before because of my faith in the brand), they do have a capitalist slant, especially when it comes to news, providing things that scare or entertain us over things that we should hear: (damn it took me forever to find the video below)
The internet is so amazing because it is a two way conversation, because it allows people like me to post stuff, and anyone with a modem can hop on a read it. If we lock the internet down behind firewalls and section it off, then the only thing that makes our internet policy different from China is the people in control of the information will be the corporations as opposed to the government. The internet needs to remain a democratic tool, and in our hands. Now that you know what it means… Guess who supports internet freedom:
And guess who is against it.